Concrete Grinding and Trip Hazard Repair in Long Beach, San Diego, Los Angeles and nearby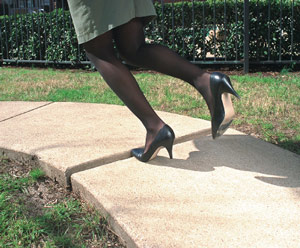 Concrete grinding is a perfect solution for the ongoing maintenance requirements of raised sidewalk trip hazards.
Saber Foundation Repair offers the ideal solution for leveling sidewalk and slab trip hazards – and we've been doing it for decades!
A misaligned joint is created when a sidewalk panel is pushed up from tree roots or because the panel settles due to poor subsurfacesoils.
Saber Foundation Repair uses a walk-behind concrete scarifier to grind down the raised lip to an ADA-compliant slope. This reduces the chance of a trip and fall accident.
We can also grind curb joints, humps in floors, and raised cracks. Most of our work is performed at apartment complexes and for homeowners associations. We also have large contracts with cities and school districts in the area.
Prices for Sidewalk Grinding
We charge a flat rate for each sidewalk "location" (up to 5 ' wide and up to 2" high). If the sidewalk is wider than five feet, we count it as two locations.
So, to estimate the cost of grinding all your raised sidewalk trip hazards, just count them up and give us a call. Most times, we can give you a quote right over the phone. For areas wider than ten feet, we simply charge per linear foot. We also offer discounts based on the number of locations. Call our office for our 'per location' rates in your area.
If the sidewalk panel has sunk, we can correct the problem with concrete-raising raising techniques, using polyurethane injection. Polyurethane injection is fast replacing older mudjacking techniques.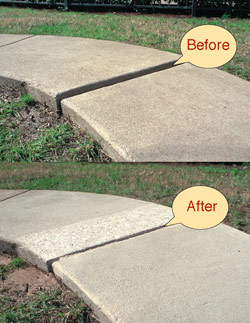 A good grind has a straight backline (the line formed by the grind).
Our dustless extraction units allow us to perform grinding operations outdoors. We can work outisde residential settings, as well as in commercial buildings and warehouses.
Industry Leaders
With over 30 years of concrete grinding experience, Saber Foundation Repair prides itself on the best looking grinds in the industry, with no stray marks, a smooth consistent non-slip finish, and straight back-line terminations.
Each location is completed to American's with Disabilities Act (ADA) standards. Our trucks are equipped with the industry's top of the line dust extraction units to perform a near dustless grinding and are capable of servicing multiple grinding machines simultaneously.
Contact us today for your concrete grinding, concrete raising, and foundation leveling needs. We will be happy to schedule an inspection and quote.