Concrete Foundation Repair in Greater Los Angeles
Get complete repair services for wall and floor cracks, bowing walls, and more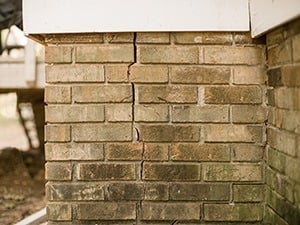 Solutions for every problem. If your foundation is cracked, buckling, or has other damage, our experts can restore your home to safe, functional condition.
No homeowner wants to deal with foundation repair, but foundation problems can affect your home's safety, appearance, and value. If you've seen issues such as floor cracks, bowing walls, or other foundation damage, Saber Foundation Repair can help. We will find the source of your problem and provide you with a quality concrete foundation repair solution.
All of our patented foundation repair solutions are custom designed for your home. As the authorized Supportworks dealer in Southern California, we install warrantied products available nowhere else, and all of our foundation specialists are fully trained and certified.
If you're ready to find a solution to your foundation issues, give us a call at 1-877-774-5887 or click below to schedule a professional inspection with one of our foundation repair experts. We offer free estimates to current homeowners on all our work in Los Angeles, San Diego, Long Beach and throughout the nearby areas.
What Our Customers Say!
"Kris Smith (especially so) and his crew are a significant asset to your..."

By Alexander
Alta Dena, CA

"I would rate Saber's production crew and sales inspection process a 10 out..."

By Karl S.
Borrego Springs, CA

"Thank you for all your support and getting us back on track with..."

By Marcel F.
Boulevard, CA

"Thank you very much for sending Dan to Torrance last week as it helped the..."

By Marjorie R.
Warner Springs, CA

"A definite plus was they were willing to finance until we got other..."

"From the sales inspector Brent to the rest of the crew knew their stuff..."

"this is in response to your WOW survey card. WOW is an understatement.Your..."

By Joseph
Lake Arrowhead, CA

"The gentleman that came out was very profesional and did communicate..."

By Anon P.
Lake Arrowhead, CA

"They really try hard to work around your personal needs."

By Anne P.
Loma Linda, CA

"Saber has been very attentive on their service calls. After we had our..."

By Molly And Ryan G.
Santee, CA

"I wanted to write and say thank you. We had the pleasure of working with..."

"Thank you Dimitri, Joe, and Lou for all of your hard work. Thank you for..."

""Daniel, I was very impressed with your professionalism, knowledge, and..."

By John O.
San Marcos, CA

"Bait Stevens was our instalation person he did an excellent job very..."

"Hi Daniel, This is to thank you for the..."

"Reinforce with your crew members to place their names on your "WOW..."

"I need to extend my compliments to include Jacob too. Saber should be..."

By Catherine K.
Rancho Santa Fe, CA

"I have been impressed by the thorough work you did during the inspection,..."

By Garry S.
San Diego, CA

"Alvin and Dimitri were personable, very informative, caring, capable to do..."

"All employees - sales, office staff, installers - are friendly and..."

By Frank Z.
San Diego, CA

"I can attest from my experience, that the Saber Team is dedicated to..."

By Byron R.
San Diego, CA

"Despite a minor communication issue to get started, the crew that..."

By Bob R.
Cardiff By The Sea, CA

"The team Franco and Chris, led by foreman Brandon Bautista were nothing..."

"So far everything seems ok, and I hope it stays that way. Than you for..."

By C J.
Rancho Santa Margarita, CA

"I contacted Saber to checkout my foundation and give me an estimate for..."

By Dario O.
Rancho Santa Margarita, CA

"I contacted Saber to checkout my foundation and give me an estimate for..."

By Jim G.
San Clemente, CA

"Wow ! What a company, specifically Danial Gill has been always been there..."

"Saber outstanding profesional, courteous and excellent customer relations..."

"My foundation project is going well. Curtis has been conscientious,..."

By James W.
Mission Viejo, CA

"You have a great company. Every person we met along the way were..."
---
---
Get the best foundation repair services from your local experts

No two foundation problems are alike, which is why our professionals will carefully examine your foundation and develop a custom repair plan. We have unique solutions for bowing walls, foundation settlement, floor cracks, and all other types of foundation problems.
All of the products we install are manufactured by Supportworks, Inc. Each foundation product is carefully designed and tested by a team of structural and geotechnical engineers, and all of our systems come with a written warranty, giving you complete peace of mind.
You don't have to live with stressful foundation problems. Saber Foundation Repair is here to provide you with quality foundation repair services that will restore the integrity of your home. Contact us today to request your free foundation repair estimate in San Diego, Los Angeles, Long Beach, Bakersfield, Santa Ana, Riverside, Anaheim, San Bernardino, Oceanside, Huntington Beach or nearby.