Testimonials
from customers I've helped!
"San Diego Good Samaritan Episcopal Church representative Stephen commented. "Gilbert Silva is great to work..."

Stephen of San Diego, CA
Gilbert S.

from

Saber Foundation Repair
Title:
Concrete Division Specialist
Hometown:
Murrieta
As Saber's Concrete Division Specialist, Gilbert is dedicated to helping property managers and municipalities mitigate their risk and liability through effective concrete repair. Gilbert works with customers to offer the optimal solution, from concrete grinding, to replacement or use of poly foam injection for quick and minimally disruptive slab leveling.
Gilbert has extensive experience in customer service and construction. He previously worked five years managing maintenance at Calvary Murrieta and worked in general construction for Tovey Shultz Construction. He credits his excellent customer service abilities to his time spent in the industry.
Gilbert takes personal responsibility to ensure each customer's satisfaction on every job, which fits in with Saber's mission: "To be the best in our industry and to WOW! our customers every step of the way."
He counts among his greatest personal achievements going back to school and completing his Pharmacy Technician certification. When he isn't evaluating properties for trip hazards and other concrete-related issues, Gilbert enjoys camping, playing basketball, football, and golf.
Videos from projects I was involved with: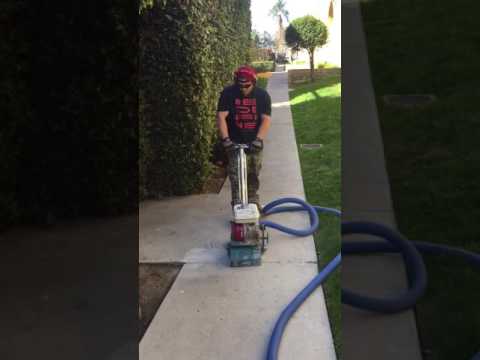 Saber Commercial Concrete Grinding
Raised, uneven concrete doesn't look good. But more importantly, these surface irregularities pose...
Watch Video
Related Videos
Before and after photos from jobs I've worked on: