Experienced Foundation Repair Company Serving Bakersfield, CA
Bakersfield resident Vickie E. commented . "Your crew arrived on time, was courteous, and cleaned up well."...
Bakersfield, CA foundation repair & concrete leveling experts
Saber Foundation Repair has been providing durable, long-lasting, and trusted foundation repair and concrete leveling in Bakersfield, CA since 2001.
Whether you need tough foundation pier systems, a long-lasting concrete leveling solution, or crawl space support jacks, we have the residential and commercial repair solutions that will better serve your project!
Supportworks guarantee
Supportworks is an international foundation repair network comprised of more than 300 independently owned and operated dealerships. As a trusted Supportworks dealer, Saber Foundation Repair offers only the best foundation repair and concrete repair solutions that are proven effective!
Our services include:
Helical Piles/Helix Piers
Helical/Tieback Anchors
Push Pier/Underpinning Systems
Crawl Space Jacks
Concrete Leveling
PolyLevel®
Sidewalk & Driveway Leveling
Airport & Train Track Repair
Void Filling & Erosion Control
And more!
Foundation repair in Bakersfield, CA
Our team installed helical anchors to support this retaining wall.
Bakersfield, CA has experienced tremendous population growth and expansion since the 70's, including the rapid development of new real estate. But regardless of if you're new to the area or have lived there a long time, it's important to check in on your property's structural stability. In business since 1987, Saber Foundation Repair is your go-to local contractor for your residential and commercial foundation repair or concrete lifting needs!
Foundation problems can start small, and you may not even notice a small crack. Foundation settlement usually takes a long time to develop. But eventually, the signs become much more clear. Chances are you've found large cracks along the interior or exterior walls or floors, bowing walls, and sagging floors and that's what brings you here today.
Saber Foundation Repair's foundation repair specialists can identify and resolve all of your foundation needs with accuracy and efficiency. As a part of the Supportworks dealer network, we receive thorough, continual training about new products and techniques in the industry. We are dedicated to providing the best service possible for all of our customers, restoring the safety of their properties. If you have a sinking, settling foundation, bowing walls, street creep, rotting crawl space support beams, or any other foundation issue, we can use one of the following products to help:
Helical Piles/Helix Piers
Helical/Tieback Anchors
Push Pier/Underpinning Systems
Crawl Space Jacks
Concrete Repair
Don't wait for total foundation failure before you act. Contact Saber Foundation Repair today and fix what's wrong with your foundation once and for all!
Concrete lifting and leveling can save driveways and pool decks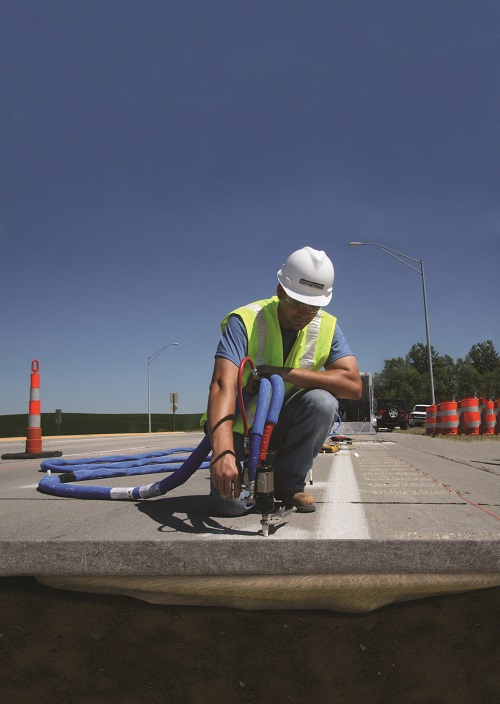 Do you have large, gaping cracks in your driveway, warehouse floor, garage floor, airport concrete, or pool deck? Slab settlement causes these kinds of breaks in your property's concrete. Not only does this damage take away from your property's overall aesthetic appeal, but it can also be hazardous, causing visitors to trip and potentially be seriously injured.
Saber Foundation Repair's solution is simple - PolyLevel®! PolyLevel® is an alternative to traditional mudjacking techniques, where the heavy grout used often creates more problems than it solves. Using a lightweight, environmentally friendly polyurethane foam, we can lift any concrete slab back to a level position. This process will get rid of almost all cracks, and it is extremely fast-acting.
If you think your property might be suffering from sunken concrete, invite one of our professionals out for an inspection! We'll quickly be able to confirm your suspicions and come up with a plan of action.
If you're experiencing foundation or structural troubles, let us help you get to the root of the issue sooner rather than later -- contact Saber Foundation Repair today!