Quality Foundation and Crawl Space Repair in San Bernardino, CA
If you're looking to stabilize your foundation, encapsulate your crawl space, or level damaged concrete, Saber Foundation Repair are the local experts you need. We provide a variety of quality home improvement services in San Bernardino, and we can help you get the solutions you need for your foundation or crawl space.
We've been San Bernardino's foundation repair experts since 1987, and we will take the time to design a custom solution for your needs. We are proud to be a member of the international Supportworks network, which provides us with the best products and training in the industry, ensuring you always get a quality solution. Call us today to learn more about how we can help you and get a free estimate.
Foundation repair experts serving San Bernardino
Damage to a foundation has a major impact on a home's safety and value. Foundation problems only worsen over time, which is why it's important to address them as soon as you see the issue. We offer foundation repair services for all of the following:
Cracked walls and floors
Bowing or buckling walls
Uneven concrete floors
Earthquake retrofitting
Seawall repair
Foundation settlement
We use products such as foundation piers and wall anchors to provide long lasting repair solutions. Our experts will carefully evaluate your home and recommend the best products to stabilize your foundation and restore your home's safety and value.
Crawl space repair offers numerous benefits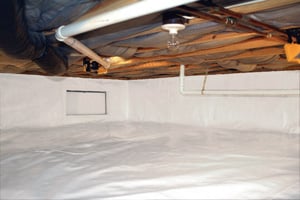 An example of finished crawl space encapsulation system.
Crawl spaces are not an area many homeowners spend much time in, which unfortunately means that problems in the crawl space often go undetected. The crawl space is major source of energy waste and often creates uncomfortable areas in the home. By encapsulation your crawl space and removing excess moisture, we can help you save money on heating and cooling costs while providing a dry, healthy, mold-free home. Our crawl space encapsulation system includes:
Vapor barriers
Crawl space insulation
Energy efficient dehumidifiers
Crawl space drainage systems
Sump pumps
Concrete leveling experts in San Bernardino
An uneven or cracked sidewalk, driveway, or patio is an eyesore for any home, and it can create problems such as tripping hazards or even reduced home value. At Saber Foundation Repair, we repair damaged concrete surfaces using PolyLevel, an polyurethane foam that is injected under the slab to raise and level the surface. This proven method provides a more accurate and longer lasting lift than traditional concrete repair methods, ensuring your home looks its best.
If you're interested in any of our foundation repair or crawl space encapsulation services, call us today to get started. We offer free estimates on all work in San Bernardino and nearby!