Contact Us For
An Estimate!
Products & Services
Crawl Space Repair Services & Products
CleanSpace Crawl Space Encapsulation Vapor Barriers & Liners
Turtl Access Hatch
EverLast Crawl Space Doors
Sanidry Crawl Space Dehumidifiers
SmartDrain Water Drainage
SilverGlo Wall Insulation
TerraBlock Floor Insulation
SmartSump Sump Pump
WallCap Block Wall Sealer
SmartVent Flood Vents
Foundation Repair Services & Products
Push Pier Underpinning For Settlement, Foundation Leveling, Sinking Foundation Repair
Foundation Crack Repair
Foundation Wall Repair
Concrete Slab Crack Repair
Geo-lock Wall Anchors
Geo-lock Helical Anchors
PowerBrace Bowed Wall Repair
CarbonArmor Fiber Wall Repair
SmartJack Crawl Space Support
Slab Pier Repair
PolyLevel Concrete Lifting & Leveling
Mudjacking & Slabjacking Alternatives
Pool Deck Repair
Concrete Sidewalk Repair
DecoShield™ Concrete Sealer
Concrete Driveway Repair
Shotcrete Wall Restoration
Earthquake Seismic Retrofitting
Seawall Repair
Bulkhead Repair
Retaining Wall Repair
Before and After Pictures from Long Beach
Cleanspace Encapsulation For Humid Crawl Space in Long Beach, CA
Cleanspace Encapsulation For Humid Crawl Space in Long Beach, CA
PolyLevel(R) in Long Beach
Company Awards
Saber was ranked 10th of Top 75 Foundation Dealers in the Supportworks network at the Redefine 2018 conference in Omaha,...
[Read more]
Saber was recognized for being 7th in the Supportworks network for push pier installations....
[Read more]
More Awards
Trusted Foundation Repair & Concrete Leveling Company Serving Long Beach, CA
Long Beach resident John P. commented regarding the job that Saber did for him. "Thanks for your professional work and reasonable...
Happy Customers Surrounding Long Beach, CA
Testimonials
Reviews
Work Requests
Click the icons to see what our customers had to say.
Reviews From Long Beach
Long Beach, CA

Friday, Nov 27th, 2015

"Excellent work, excellent crew and office staff. Scheduling..."

Long Beach, CA

Tuesday, Nov 18th, 2014

"This is the second time we have used Saber. They..."

Long Beach, CA

Thursday, Sep 4th, 2014

"I loathe having workers in my home, but they got down to..."
Testimonials From Long Beach
Long Beach, CA foundation repair & concrete leveling experts
Saber Foundation Repair has been providing durable, long-lasting, and trusted commercial and residential foundation repair and concrete leveling in Long Beach, CA since 2001.
Whether you need tough foundation pier systems, a long-lasting concrete leveling solution, or crawl space support jacks, we have the repair solutions that will better serve your project!
Supportworks guarantee
Supportworks is an international foundation repair network comprised of more than 300 independently owned and operated dealerships. Saber Foundation Repair is proud to be part of the Supportworks network and serve Long Beach as a trusted concrete and foundation repair company. As a Supportworks dealer, we offer only the best residential and commercial foundation repair and concrete repair solutions that are proven effective!
Our services include:
Helical Piles/Helix Piers
Helical/Tieback Anchors
Push Pier/Underpinning Systems
Crawl Space Jacks
Concrete Leveling
PolyLevel®
Sidewalk & Driveway Leveling
DecoShield™ Concrete Sealer
Airport & Train Track Repair
Void Filling & Erosion Control
And more!
Trusted Long Beach foundation repair contractor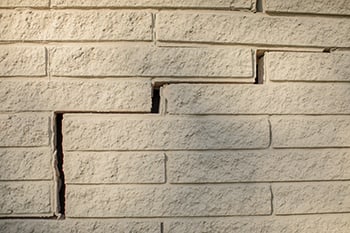 A Stair-step foundation crack is a sign of a foundation wall problem.
Are you concerned about the condition of your residential or commercial foundation? Foundation problems are a common occurrence, but that doesn't mean they aren't a big deal. If you have any of the following issues, your property could need foundation repair.
Common foundation problems
Cracked foundation walls or floors
Bowing or buckling foundation walls
Sticking windows and doors in the living area
Walls leaning inwards at the top
Sinking or unlevel floors and slabs
Foundation settlement
If you've noticed any of these problems, don't hesitate to contact the home foundation repair experts at Saber Foundation Repair. We have the expertise and solutions to repair all types of foundation problems, whether it's a foundation crack, a buckling foundation wall, or another issue.
Restore your property with concrete leveling
Do you have a cracked or uneven sidewalk, warehouse floor, airport, or bridge approach? No one wants to deal with unsightly and potentially hazardous concrete, which is why we provide expert concrete leveling with PolyLevel®.
The PolyLevel® system is a polyurethane foam that is injected underneath the concrete slab to raise and stabilize the surface. This process is non-invasive and is done very quickly, providing an accurate, long-lasting, and environmentally friendly concrete repair solution.
Schedule a free estimate today!
Saber Foundation Repair is thrilled to offer residential and commercial property owners in Long Beach and nearby free estimates on our services. From foundation crack repair to concrete lifting, the pros at Saber Foundation Repair have you covered!
Let's get the ball rolling on your house foundation repair or concrete restoration project in Long Beach. Call us at 1-877-203-4601 or click below today to get started!
Case Studies From Long Beach
Photo Galleries From Long Beach
Job Stories From Long Beach, CA
PolyLevel Pool Deck Repair In Long Beach, CA
Homeowner Andrew and Nicole C. in Long Beach contacted us for our PolyLevel service. They have been having issues with their pool deck since they've moved into their home in 2018. They now decided it was time to repair their uneven concrete and improve their pool deck. Project design special evaluated the pool deck and found it will need several areas of lift with Poly and will need to remove all the old sealant to be replaced with our NexusPro sealant. Our PolyLevel specialist Scott L took on this project and installed 91 feet of nexus joint sealant after the old sealant was removed, 59 feet of Nexus crack repair, and lifted 8 areas of the pool deck with Poly. After Scott finished the project the couple was overjoyed by the results and are excited to no longer worry about their concrete around their pool.
Cleanspace Encapsulation For Crawl Space in Long Beach, CA
Homeowner Wence P. started noticing a problem in his new home in Long Beach that he recently moved into. He started to notice a musky smell coming from his crawl space. After a few months of dealing with the odor, he decided to call Saber to evaluate his problem. Our project design specialist Jason S. found EXTREMELY high levels of humidity. His meter read that the humidity ranged from 77.1 to 81.1 percent of humidity. Having this high of humidity levels is definitely the reason why the homeowner is experiencing problems. Having high humidity will cause mold in the crawl space which is the reason why there is a bad odor. Also, the humidity will cause moisture to affect the floor joists of the home. The wood readings were also very high reaching nearly 19 percent! This will cause even more problems that are far more costly. Wence understood the issues his crawl space was having and agreed to move forward. Bryan A. and his crew took on this project and cleared out all the debris of the home and installed the Cleanspace package. This service took two weeks to complete and included: 1446 square feet of clean space, 12 vent sealings, a condensate pump, a customer-fitted Everlast door, every efficient Aprilaire 1820 dehumidifier, and a new electrical outlet. From this install, Wence now has the peace of mind he was looking for and no longer has to deal with a moldy crawlspace that would eventually have cost him even more money down the road.
Using The Cleanspace System To Dehumidify Moldy Crawl Space In Long Beach, CA
Homeowner Carol E. had a massive mold problem in her 1960s home in Long Beach. Her home has had mold remediation done twice in the past six years and now she needs to do it again. Mold remediation is the disposal of moldy porous building materials and involves the cleaning and disinfecting carpet and anything else that can be saved from excessive mold growth within the home. Carol didn't experience the problem herself; she lives out of state and rents her property. She wanted to make sure that her home didn't impact the health of her tenants and provide them with ideal living. Her real estate agents wanted her to replace the floor joists as well as other parts of her crawl space to address the issue. Our Project Design Specialist Jason was called in to do the evaluation and found that the crawlspace had over 68% humidity within the crawl space. Jason notified Carol that the real estate agent's suggestion was only a Band-Aid fix and eventually the humidity will cause mold again. Carol agreed with Jason and decided to go along with the project. Bryan A. and his crew took on this project and installed the Cleanspace Service. This service included: 930 square feet of Cleanspace, debris removal, a Cleanspace vent sealing, a custom-fitted Everlast door, an energy-efficient Aprilaire 1820 dehumidifier, a Smart Sump, and some electrical work. Now Carol can have the peace of mind of finally solving her mold issue the right way.
Seismic Strengthening And Repairing Foundation Crack In Long Beach
Homeowner Robert L moved into their 1950s home in SD roughly 5 years ago. Recently they had an inspection of their property and the inspector discovered that there was a foundation crack and recommended that they had a foundation repair company come and give an estimate. Robert found us and said, "It is important to us that the company we select has a good reputation. – It's important to my wife that this crack is fixed correctly so that we have peace of mind." Bryan and his crew installed four new posts with pads and caps, a fifteen-foot supplemental beam, and a foundation wall strap. Robert and his wife were happy with the results and more importantly, they don't have to worry about having future problems with their home and now can have the peace of mind they always wanted.
Fixing And Stabilizing Uneven Slabs Of Concrete In Long Beach, CA
Homeowner David A. out in Long beach noticed that his driveway was becoming uneven and the cracks were starting to be a real eyesore. He and his wife first noticed the problem a couple of years ago but the concrete was barely uneven and the cracks were very minor. However, now some slabs are settling and the cracks are a terrible eyesore. At this point, the couple knew they needed help. One of our Project Design Specialist Peter G. identified that David would need PolyLevel inserted into two areas of the driveways as well as nearly 400ft of our NexusPro Joint sealant and crack repair. One of our PolyLevel experts Scott L. arrived with his crew, they began with the installation of Poly. The Poly lifted the concrete that has settled and became level to the rest of the concrete. After the Poly was finished Scott would seal all the joints as well as the cracks of the driveway with NexusPro. NexusPro is a sealant that is weather-resistant and never fully hardens. This allows the concrete to be protected and have the best finish possible. David and his wife were extremely pleased, they didn't expect to get the results that Saber was able to provide. We were happy to provide the couple with a one-of-a-kind experience and showed them that we gave them the best permanent solution.
Seismic Retrofitting in Long Beach, CA
Robert Licon, a homeowner in Long Beach California has lived in his 70-year-old home for the past 5 years. They recently had a home inspection and learned there is a crack in their foundation which can be a big problem during an earthquake. Robert and his wife understood the seriousness of the problem and called us right away to do Seismic Retrofitting to properly reduce their risks. They didn't want to deal with any further issues that can be caused by the crack and really wanted peace of mind when they are thinking of their home. They were aware of our reputation and knew we will give them redefining service and leave them saying WOW. Our Foreman Bryan installed 4 new posts with pads and caps, a 15-foot supplemental beam, a single foundation wall strap to address their crack. These fixes now make the home much safer and have reduced the risk of damage if an earthquake were to happen. Now Robert and his wife can have that peace of mind that they wanted from having a safer home.
Using The Cleanspace System To Dehumidify Old Home In Long Beach CA
Ponce and his wife reached out to have help with their 1960s home in Long Beach CA that they recently moved into. They had issues with a smelly and moist Crawlspace underneath their home. They were very concerned about their new investment; they didn't have the peace of mind they would like to have. One of our talented Foreman Bryan A. installed over 1440 square feet of Cleanspace, removed a ton of debris, properly installed 12 vent sealing, a high-quality condensate pump, a customed fitted Everlast door, a compact high-performance Aprilaire 1820 dehumidifier, and a freshly installed electrical outlet. Ponce and his family were overjoyed and happy with integrity as well as our quality of work. Now the family can enjoy having the peace of mind of knowing that their crawlspace is clean and safe.
FOUNDATION NEEDS STABILIZATION IN LONG BEACH
Homeowner Greta M. of Long Beach was concerned about her foundation after buying her home in 2015. At that time an inspector had advised them that some of the posts in the crawl space had shifted. She could see the results of the shifting in the floor of her guest bathroom. Project Design Specialist Jason S. came out and did a complete evaluation of the crawl space and foundation. He proposed a solution of five helical piers and a supplemental metal beam to provide support and stabilization. Greta was very satisfied with Jason's visit, and writes "Jason was very knowledgeable and thorough. He took his time walking us through everything. We measured all the flooring with an altimeter so we could see exactly what the foundation was doing and how it was settling. He really knew his stuff and was very helpful." Greta will be going ahead with the project. Saber loves to bring peace of mind to homeowners!
Drainage Issues in Long Beach
Long Beach resident Eric L. sought help from Saber for standing water in his crawl space. Project Design Specialist Daniel G. assessed the situation and recommended crawlspace encapsulation and installation of a French drain. Eric was pleased with Daniel's visit, writing, "Daniel did a great job. Good representative of your company."
Concrete Replacement in Long Beach
Bonnie S., a representative of a Long Beach apartment complex, contacted Saber about tree roots that were lifting their concrete and creating trip hazards. Saber Concrete Division Specialist Gilbert S. walked the property with Bonnie and determined that root removal and concrete replacement was the best solution for the job.
Saber's concrete crew removed the damaged concrete, removed the roots and then replaced the concrete.
Push Piers In Long Beach
Long Beach resident Garret S. contacted Saber about his failing front porch foundation. A saber Design Specialist recommended push piers with a steel beam to support his porch.
Foreman Joe S. and crew arrived at the job on time and ready to work. They properly installed the push piers and beam, providing support to Garret's front porch. Garret was very happy with the work performed, giving Joe and crew a great review.
PolyLevel(R) in Long Beach
Long Beach residents Adolfo and Linda C. contacted Saber about a failing slab around their pool. Dan F., a Saber Design Specialist, performed a free evaluation and determined that the failing slab could be saved with our PolyLevel Product.
PolyLevel foreman Scott L. and crew arrived at the job site on time and ready to work. The lift and void fill went better than Adolfo and Linda expected, prompting them to leave a great review for Scott and his crew.
Seismic Strengthening
Cascia L. contacted Saber after having concerns about her raised foundation. Following a thorough evaluation, Design Specialist John G. recommended that Cascia implement our Seismic Strengthening system.
Crawl Space foreman Jordan S. arrived at the job on time and ready to install. The crew prepped the work area and began installing. The job went well, securing the sill plate to the footing of the house.
Cascia was very pleased with the professionalism and timely manner in which Jordan and crew finished the job. Cascia left a great review.
Smart Jacks in Long Beach
Long Beach resident Tony M. contacted Saber regarding sagging floors in his home. Saber's Project Design Specialist performed a thorough and Free Homeowner inspection. The Support Posts in the Crawlspace were failing. The age of the Home and years of Earthquakes were the culprits.
Saber's Crew dug Pits in the Crawlspace under the Existing Floor Joists. We then filled these pits to form the Base of the Smart Jacks that we installed and Pressurized. This gave the floor a Consistent Elevation.
Smart Jacks in Long Beach
Long Beach resident Veronica C. contacted Saber regarding Sagging Floors in her Home. Saber's Project Design Specialist performed a thorough inspection of Veronica's Home. The Support Posts in the Crawlspace are in the process of sliding off of their concrete bases.
Saber's crew attached steel I Beams to the Floor Joists. We then attached Smart Jacks to the I Beams. We pressurized the Smart Jacks. The Floors are no longer sagging.
Eliminating Trip Hazards at a Long Beach Church
Bethany Baptist Church, in Long Beach, contacted Saber regarding Trip hazards in the Walkways. Saber's Project Design Specialist found that Tree Roots were the cause of the Buckling Walkways.
Our crew excavated and removed all of the damaged concrete. The Tree Roots were removed. Rebar was installed, and Forms were built. New concrete was poured and finished. All trip hazards have been eliminated.
Sill plate bolting in Long Beach
A homeowner in Long Beach, was wanting to retrofit their home and protect their investment from the inevitable California earthquakes. The homeowner did some research and found that Saber was the best option for him. The Design Specialist from Saber came to the property to do an evaluation. During the walk through inspection the Specialist also found that the posts used to support the home needed to be replaced to prevent the home from settlement issues. The homeowner was very impressed with the Design Specialist and the proposal presented during the walk through, and was ready to schedule the Saber Crew to come to the propriety and get started on the repairs. The crew arrived and went straight to work, they replaced the wood posts and all of the existing post strapping. They then continued with the sill plate bolting for the single story structure. The homeowner can now rest easy knowing that the home is protected from an earthquake and any future settlement issues.
Helical piers used to stabilize in Long Beach
Homeowners in Long Beach, California, had noticed serious cracks forming in the columns surrounding their porch. The homeowners knew that this was not normal, they did some research on the internet and found Saber. A project specialist from Saber went to the property to do an evaluation. The project specialist found that the soils were un-stabile and proposed that Saber install 3 helical piers to stabilize the porch and pillar. This type of settlement is usually due to the unstable soils beneath the foundation.
Saber sent a crew to complete the work for this homeowner. The crew installed 3 helical piers at three different pier locations to stabilize the porch and pillar. The helical pier is a steel pier that is driven into the ground like a screw. The pier is driven down until it reaches solid stable bedrock below. There were 2 piers installed to stabilize the porch, and one more pier installed to stabilize the pillar. Once the installation is complete the piers will remain a permeant fixture and will stabilize the area.
Crack repair and soil stabilization in Long Beach
Homeowners in Long Beach, California, had noticed signs of settlement at their property, cracks along the exterior of their home had started to appear. This type of settlement is usually due to the unstable soils beneath the foundation. The homeowners knew that something needed to be done to prevent any more cracking to occur.
Saber was contracted to fix the issue. Using PolyLEVEL™ the crew from Saber was able to stabilize the soils beneath the foundation. By pumping PolyLEVEL™ beneath the foundation this added stabilization to already unstable soils. Once the soils were stabilized the cracks were then repaired using gravity fed epoxy. The expoxy closes the cracks and allows for the homeowners to re-stucco the home with out the worry that the cracks will reappear. The homes foundation is now stabilized and the cracks are repaired.
Seismic Retrofit in Long Beach
Customer Mari D, of Long Beach, California, had been considering reinforcing her property, and with the string of recent earthquakes in and around the Los Angeles area, she found that now was a better time then any. So, Mari did her research and found that Saber was the best company to come evaluate her property. Upon the inspection, the Sales representative from Saber proposed to install Simpson UFP 10 brackets at every corner of the foundation and every 6' from the center, as well as strapping each 4x4 post to each existing wood grinder beam, using Simpson T-straps and Simpson framing clips. There was also a crack in the slab that was a concern to Mari, therefore; it was suggested that the crack be routed, cleaned and repaired using a two component epoxy injection method.
Mari found that this was the best option for her, so she scheduled to have a crew from Saber repair the crack in her slab and retro fit her property. The crew was able to complete the project in the first day. They began by going into the crawlspace where the work would be preformed, and installed and secured the T-straps, they then installed and secured the sill plates and repaired the crack with epoxy.
Mari was very pleased with the work completed. It is safe to say, she now has piece of mind knowing that in the occurrence of the next earthquake in her area, her home has been safely secured.
Work Requests From Long Beach, CA
Project Location: Long Beach, CA

Project Location: Long Beach, CA

Project Location: Long Beach, CA

Project Location: Long Beach, CA

Project Location: Long Beach, CA

Project Location: Long Beach, CA

Project Location: Long Beach, CA

Project Location: Long Beach, CA

Project Location: Long Beach, CA

Project Location: Long Beach, CA

Project Location: Long Beach, CA

Project Location: Long Beach, CA

Project Location: Long Beach, CA

Project Location: Long Beach, CA

Project Location: Long Beach, CA

Project Location: Long Beach, CA

Project Location: Long Beach, CA

Project Location: Long Beach, CA

Project Location: Long Beach, CA

Project Location: Long Beach, CA

Serving the following Long Beach, CA zip codes
90801, 90802, 90803, 90804, 90805, 90806, 90807, 90808, 90809, 90810, 90813, 90814, 90815, 90822, 90831, 90832, 90833, 90840, 90842, 90844, 90846, 90847, 90848, 90853