Dependable Foundation Repair & Concrete Leveling Company Serving Ontario, CA
Quality Foundation Repair and Concrete Leveling in Ontario, California
If you have issues with your home's foundation or crawl space, Saber Foundation Repair are the local experts you need. We provide a variety of home improvement solutions in Ontario, including foundation repair, crawl space encapsulation, concrete leveling, and seismic retrofitting. Our experienced professionals will carefully evaluate your home to ensure that you get the best solutions for your needs.
Saber Foundation Repair has been serving Ontario since 1987, and we know what it takes to ensure your home has a quality solution. As part of the international Supportworks network, we have access to unparalleled products and training, allowing us to provide the best foundation and crawl space repair services available. If you have issues with your home's foundation, call us today to get a free estimate!
Complete foundation repair services in Ontario
For many homeowners, problems such as wall or floor cracks, bowing and buckling walls, and foundation settlement are major concerns. These problems can reduce your home's value and eventually create a safety problem, meaning it's essential to get quality repairs as soon as possible. We provide complete foundation repair using solutions such as foundation piers and wall anchors, which will prevent further decay of your foundation and stabilize the problem.
In additional to residential and commercial foundation repair, we also offer earthquake retrofitting and seawall repair. Earthquake retrofitting strengthens and stabilizes weak points in the foundation, ensuring your home is fully protected. Seawall repair will help protect your property from natural ocean patterns while keeping your wall functioning longer.
Crawl space repair offers numerous benefits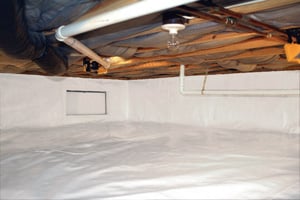 An example of finished crawl space encapsulation system.
Crawl spaces are not an area many homeowners spend much time in, which unfortunately means that problems in the crawl space often go undetected. The crawl space is major source of energy waste and often creates uncomfortable areas in the home. By encapsulation your crawl space and removing excess moisture, we can help you save money on heating and cooling costs while providing a dry, healthy, mold-free home. Our crawl space encapsulation system includes:
Vapor barriers
Crawl space insulation
Energy efficient dehumidifiers
Crawl space drainage systems
Sump pumps
Restore your property with concrete leveling
Do you have a cracked or uneven sidewalk, driveway or patio? No one wants to deal with unsightly and potentially hazardous concrete, which is why we provide expert concrete leveling with PolyLevel®. The PolyLevel® system is a polyurethane foam that is injected underneath the concrete slab to raise and stabilize the surface. This process is non-invasive and is done very quickly, providing an accurate, long lasting, and environmentally friendly concrete repair solution.
If you're interested in any of our foundation repair, crawl space encapsulation, or concrete leveling services, call us today to get started. We offer free estimates in Ontario and throughout the surrounding areas.