Expert Foundation Repair & Concrete Leveling Services in Orange, California
Orange resident Kay C. commented regarding her home repair. "I was very impressed with Joe and his crew. Also, David and...
Foundation Repair and Concrete Leveling Experts in Orange, California
Do you have issues with cracked or bowing foundation walls, uneven concrete surfaces, or a moldy crawl space? Saber Foundation Repair is a full service foundation repair contractor serving Orange and nearby, and we can provide a quality solution to your problem. We offer complete foundation repair, concrete leveling, and crawl space encapsulation services to help protect your home.
Saber Foundation Repair has been serving Orange since 1987, and our experienced professionals know what it takes to find the right foundation solutions for your home. As part of the international Supportworks network, we provide patented and proven products designed specifically to provide long lasting solutions. Call us today or contact us online to get a free estimate!
Foundation repair for all types of problems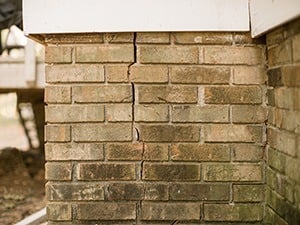 Issues such as the bowing wall shown here are a sign that your home needs foundation repair to ensure stabilization.
Foundations issues are a common concern for homeowners in Orange, which is why company provides a complete line of foundation solutions for your home. Our foundation services include all of the following:
Repair of wall and floor cracks
Stabilizing bowing, buckling walls
Leveling uneven floors
Earthquake retrofitting
Seawall repair
Crawl space repair creates a healthier home in Orange
If have a moldy, humid crawl space, your home will suffer several problems. Crawl spaces are a major source of energy leaks that create uncomfortable rooms and raise heating and cooling costs. Additionally, mold and water in the crawl space can lead to rot, pest damage, and lower home value.
Our crawl space encapsulation system can fix all of these problems by using products such as vapor barriers, sump pumps, drainage systems, and crawl space insulation. Together, this system seals your crawl space off from the outside, eliminating the excess moisture that leads to mold and rot and the air leaks that waste energy. As a result, your home will be cleaner, more comfortable, and more efficient.
Concrete leveling experts in Orange
An uneven or cracked sidewalk, driveway, or patio is an eyesore for any home, and it can create problems such as tripping hazards or even reduced home value. At Saber Foundation Repair, we repair damaged concrete surfaces using PolyLevel®, an polyurethane foam that is injected under the slab to raise and level the surface. This proven method provides a more accurate and longer lasting lift than traditional concrete repair methods, ensuring your home looks its best.
If you're interested in any of our foundation repair or crawl space encapsulation services, call us today to get started. We offer free estimates on all work in Orange and nearby!