Expert Foundation Repair & Concrete Leveling Contractor Serving Palm Springs, CA
Palm Springs, CA foundation repair services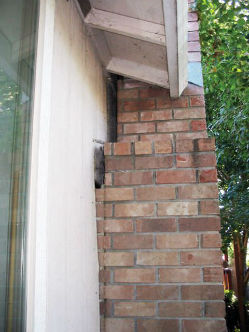 This chimney separated from the house because of foundation settlement.
Palm Springs is known for many things, including its mid-century modern architecture. But even its most unique buildings may have to contend with foundation problems. In business since 1987, Saber Foundation Repair has decades of experience helping homeowners in Palm Springs with high-quality foundation repair and concrete lifting services.
Does your home have noticeable cracks in interior or exterior walls, sagging floors, bowing walls, or windows that stick? All of these and more can be signs of foundation trouble. The foundation repair experts at Saber Foundation Repair know how to find and diagnose all of these symptoms, so we can fix the cause of the problem.
As a part of the Supportworks dealer network, all of our foundation repair products are designed by geotechnical and structural engineers who continually research best practices for the industry. If there is a new development, we want our customers to benefit! Our foundation products include:
Helical, push, and slab piers
Wall anchors
Crawl space support jacks
There is no job too big or small for our professionals to handle. Our priority is your complete safety and satisfaction, so we won't rest until the job is completed to our high standards. When you work with Saber Foundation Repair, you're choosing undeniable quality and a permanent solution!
Quality concrete lifting, seismic retrofitting, and more
Concrete slab settlement can cause major tripping hazards.
Concrete slabs can also cause many difficulties for local homeowners. Have you noticed any of the following problems around your home?
Sinking concrete steps or sidewalks
Cracked, bumpy and uneven driveways or patios
Cracking and sinking sections of slabs
Washout of soils under concrete slabs
Repeated cracking of concrete slabs
If so, concrete slab settlement is probably at work. Saber Foundation Repair has an effective, fast-acting solution that will restore your property in no time – PolyLevel®! This award-winning concrete lifting and leveling solution uses a polyurethane foam that, when injected beneath a concrete slab, will expand and lift the concrete back to its original position.
Along with our foundation repair and concrete lifting services, we can also help with earthquake retrofitting, crawl space repair, and more. If your home has any structural problems, chances are we've seen them before. Schedule a free estimate in Palm Springs, CA today and see how we can restore safety and value to your home!