Expert Foundation & Concrete Repair in Rancho Cucamonga, CA
Rancho Cucamonga, CA residential and commercial foundation repair & concrete leveling experts
Saber Foundation Repair has been providing durable, long-lasting, and trusted foundation repair and concrete leveling in Rancho Cucamonga, CA since 2001.
Whether you need tough foundation pier systems, a long-lasting concrete leveling solution, or crawl space support jacks, we have the repair solutions that will better serve your residential or commercial property!
Supportworks guarantee
Supportworks is an international foundation repair network comprised of more than 300 independently owned and operated dealerships. As a trusted Supportworks dealer, Saber Foundation Repair offers only the best foundation repair and concrete repair solutions that are proven effective!
Our services include:
Helical Piles/Helix Piers
Helical/Tieback Anchors
Push Pier/Underpinning Systems
Crawl Space Jacks
Concrete Leveling
PolyLevel®
Sidewalk & Driveway Leveling
Airport & Train Track Repair
Void Filling & Erosion Control
And more!
Foundation repair experts serving Rancho Cucamonga
Damage to a foundation has a major impact on a property's safety and value. Foundation problems only worsen over time, which is why it's important to address them as soon as you see the issue. We offer foundation repair services for all of the following:
Cracked walls and floors
Bowing or buckling walls
Uneven concrete floors
Earthquake retrofitting
Seawall repair
Foundation settlement
We use products such as foundation piers to provide long-lasting repair solutions. Our experts will carefully evaluate your issues and recommend the best products to stabilize your foundation.
Quality concrete leveling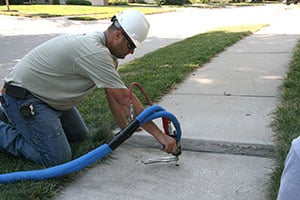 PolyLevel® is a fast, effective concrete repair solution.
Do you have cracked or uneven concrete surfaces around your residential or commercial property? Damaged concrete is more than just an eyesore -- it can create tripping hazards and reduce property value. Saber Foundation Repair repairs and levels concrete with PolyLevel®, an innovative polyurethane injection foam. This system provides a non-invasive, accurate repair solution that cures extremely quickly and is exceptionally durable. Whether you have an issue with your sidewalk, driveway, pool deck, patio, or other surface, PolyLevel® can help.
If you're interested in any of our foundation repair or concrete leveling services, call us today -- we offer all our services in Rancho Cucamonga and the nearby areas!