Redondo Beach, CA's Leading Foundation Repair & Concrete Leveling Company
Quality Foundation Repair and Concrete Leveling in Redondo Beach, California
If you have issues with your home's foundation or crawl space, Saber Foundation Repair are the local experts you need. We provide a variety of home improvement solutions in Redondo Beach, including foundation repair, crawl space encapsulation, concrete leveling, and seismic retrofitting. Our experienced professionals will carefully evaluate your home to ensure that you get the best solutions for your needs.
Saber Foundation Repair has been serving Redondo Beach since 1987, and we know what it takes to ensure your home has a quality solution. As part of the international Supportworks network, we have access to unparalleled products and training, allowing us to provide the best foundation and crawl space repair services available. If you have issues with your home's foundation, call us today to get a free estimate!
Foundation repair for all types of problems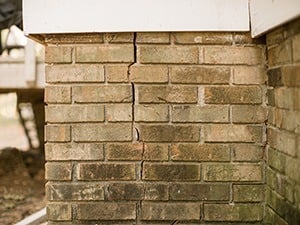 Issues such as the bowing wall shown here are a sign that your home needs foundation repair to ensure stabilization.
Foundations issues are a common concern for homeowners in Redondo Beach, which is why company provides a complete line of foundation solutions for your home. Our foundation services include all of the following:
Repair of wall and floor cracks
Stabilizing bowing, buckling walls
Leveling uneven floors
Earthquake retrofitting
Seawall repair
Upgrade your home with crawl space encapsulation
For many homeowners, the crawl space is out of sight and out of mind. However, air leaks and excess moisture in the crawl space can create problems such as a mold growth, wood rot, and energy waste in your home. If you have uncomfortable temperatures, rising utility bills, or have noticed mold growth, we can help. We repair and encapsulate crawl spaces with our complete system:
Vapor barriers
Sump pumps
Drainage systems
Crawl space insulation
Energy efficient dehumidifiers
Crawl space support posts
Restore your home with quality concrete leveling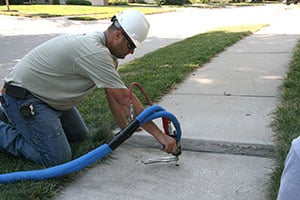 PolyLevel® is a fast, effective concrete repair solution.
Do you have cracked or uneven concrete surfaces around your home? Damaged concrete is more than just an eyesore -- it can create tripping hazards and reduce property value. Saber Foundation Repair repairs and levels concrete with PolyLevel®, an innovative polyurethane injection foam. This system provides a non-invasive, accurate repair solution that cures extremely quickly and is exceptionally durable. Whether you have an issue with your sidewalk, driveway, pool deck, patio, or other surface, PolyLevel® can help.
If you're interested in any of our foundation repair, concrete leveling, or crawl space encapsulation services, call us today to get a free estimate. We offer all our services in Redondo Beach and the nearby areas.