Dependable Foundation Repair & Concrete Leveling Company Serving Santa Maria, CA
Santa Maria, CA foundation repair and seismic retrofitting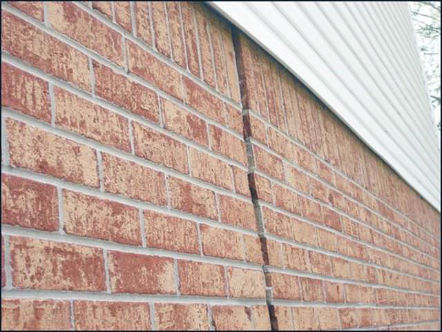 An exterior wall crack caused by foundation settlement.
If you're suffering from foundation issues at your Santa Maria, CA home, you're not alone. Saber Foundation Repair has three decades of experience helping local residents resolve their foundation repair needs efficiently and effectively. We have the high-quality products and world-class training needed to handle any foundation problem, no matter how big or small it might seem!
Have you seen any of these issues around your home?
Cracks in floors and walls
Uneven, sloping, or sagging floors
Bowing walls
Sticking windows and doors
Tilting chimneys
If so, you're probably experiencing some kind of foundation problem, such as foundation settlement. It's in your best interest to discover and solve any foundation issues sooner rather than later. These symptoms will only get worse over time, and in extreme cases they can ruin your home entirely. And if you're thinking about selling your home any time in the future, you'll either need to fix the foundation at that point anyway, or heavily discount the price of your home just to get someone to go through with a sale.
Saber Foundation Repair's foundation repair experts have all of the solutions you need to restore stability and value to your property. Different products are best for different problems, so we'll be sure to thoroughly inspect and diagnose your property before getting started. Our foundation repair products include foundation piers, wall braces, and crawl space support jacks, and we'll explain which will work for your home.
If your home needs a little extra support to stand up to other structural problems caused by earthquakes, we also offer seismic retrofitting services. By reinforcing your home with strong metal connectors at the junctures that need it most, we'll help maintain the integrity of your property!
Proven concrete lifting, leveling, and grinding services
Sunken concrete caused this patio deck to be uneven.
Concrete slab settlement can be more than just a nuisance on your property. A sunken slab can lead to cracks or uneven flooring, both of which can cause tripping hazards. Additionally, the most likely areas for slab settlement to occur include your driveway, sidewalk, patio, or pool deck - not places where you'd want to take a fall!
Saber Foundation Repair uses the proven, patented PolyLevel® method to reverse slab settlement. It works by injecting a polyurethane foam into the ground. When this foam expands, it lifts the concrete back to level. PolyLevel® is strong, lightweight, and safe for the environment. Best of all, the affected area will be ready for normal use after just 15 minutes!
If you're ready to get started on foundation repair, or concrete lifting and leveling, schedule a free estimate today! We serve customers in Santa Maria, CA and throughout the surrounding areas.