Dependable Foundation Repair & Concrete Leveling Company Serving Pasadena, CA
Pasadena, CA expert foundation repair and earthquake retrofitting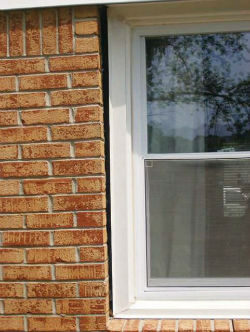 Severe foundation settlement caused this wall to pull away from the window.
Homeowners in Pasadena, CA are no stranger to structural instability because of relatively frequent earthquakes. In fact, Pasadena has experienced over 3,000 earthquakes since 1931. Having a durable home with a stable foundation is crucial for your family's safety. In business since 1987, Saber Foundation Repair has the experience and tools necessary for all of your foundation repair and seismic retrofitting needs!
There are many potential causes of foundation damage, but the most common is settlement. The loose soils around your foundation can shift over time, disturbing your foundation and allowing it to sink. Of course, you can't see your foundation settling from above ground, but there are several above-ground signs. If you have cracks in interior or exterior walls, bowing walls, a tilting chimney, or uneven floors, these are all potential symptoms of foundation settlement.
It usually takes a long time for a sinking foundation to create catastrophic problems, but the more you wait before you address the issue, the more likely it is that you'll have to pay more to resolve it. On top of the cost, you'll have to live in an unsightly and unsafe property. Saber Foundation Repair can use proven, patented foundation repair products to anchor your foundation to solid, load-bearing soil or bedrock, stopping settlement in its tracks.
Saber Foundation Repair also offers seismic retrofitting to reinforce the rest of your home against the destructive forces of earthquakes. Retrofitting is designed to fight against racking, sliding, and overturning of your home by an earthquake. Hold downs, anchors and anchor bolts, strap ties and framing angles are used to redistribute impact force, so your home won't be torn apart at a weak structural point. Regardless of which of our services you're in the market for, Saber Foundation Repair's top priority is doing the best job we can to protect your family and your home!
Concrete lifting and leveling restores the look and safety of your property
PolyLevel® can restore even the largest of gaps and cracks.
Do you have a concrete driveway, sidewalk, patio, or pool deck on your property? If so, there's a good chance that you will eventually have to contend with concrete settlement. In fact, if you've noticed any of the following issues around your home, you may already be in need of concrete lifting and leveling:
Sinking concrete steps or sidewalks
Cracked, bumpy and uneven driveways or patios
Cracking and sinking sections of slabs
Washout of soils under concrete slabs
Repeated cracking of concrete slabs
Saber Foundation Repair can fix these issues using PolyLevel®. A unique, award-winning alternative to traditional mudjacking materials, PolyLevel® uses a polyurethane foaming agent to efficiently and effectively restore concrete to its original position. It's easily injected into even the smallest of spaces, and is minimally disruptive to your home. Installation takes less than a day and your property should be ready for normal use within 15 minutes after application!
Ready to get started on your foundation repair, concrete lifting, or earthquake retrofitting needs? Schedule a free estimate with Saber Foundation Repair today! We serve homeowners in Pasadena, CA and throughout the surrounding areas!