Leading foundation repair and seismic retrofitting in Santa Barbara, CA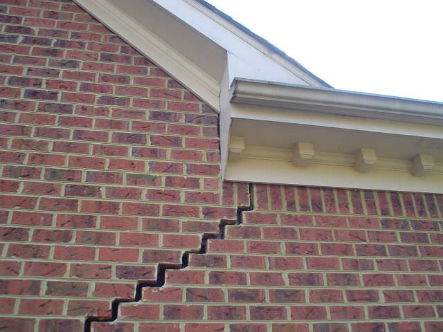 Stair-step cracks are typical of foundation settlement.
With its Mediterranean climate, stunning coastline and dramatic mountain range, Santa Barbara, CA is a beautiful place to live. But because it is situated between two faults and consists of mostly fine sandy loam for soil, there can be some structural instability for local homes. If you're concerned about the state of your foundation, Saber Foundation Repair is the company to call!
We've been in business since 1987, and throughout our nearly 30 years in business we've received great recognition for the quality of work we do. Besides getting the job done right and keeping our customers safe and happy, another of our priorities is education – both for our employees and for you!
Have you noticed these signs of foundation trouble on your property?
Cracks in floors and walls
Uneven, sloping, or sagging floors
Bowing walls
Sticking windows and doors
Tilting chimneys
When the soils around your home easily expand or contract, it can lead to foundation settlement, which causes many of the above symptoms. Other foundation problems include street creep, foundation heave, and collapsing walls. No matter what issue is plaguing your home, the foundation repair specialists at Saber Foundation Repair will find the right solution for the job. From foundation piers to wall braces and more, we have what it takes to offer permanent results.
Along with our foundation repair services, we also help with seismic retrofitting. If your home cannot protect your family during an earthquake, our specialists can reinforce its structure. Using metal connectors and critical junctions, we'll make sure your home is earthquake ready!
Trust us for concrete lifting and leveling and more
Pool deck sinking can cause a dangerous tripping hazard.
Do you have an uneven or cracked driveway, sidewalk, patio, or pool deck? These troubles are usually caused by concrete slab settlement. Similar to foundation settlement but on a smaller scale, the weight of concrete can prove difficult for the soils beneath to uphold for long periods of time.
Saber Foundation Repair's solution for all of your concrete lifting and leveling needs is PolyLevel. PolyLevel is made up of a strong, lightweight polyurethane foam. It is injected into the ground underneath the sunken slab, where it quickly expands, raising the slab up to its original position. Unlike other grout materials, PolyLevel doesn't weigh itself down, is environmentally friendly, and is made to last!
Saber Foundation Repair has decades of experience protecting homeowners by completing their foundation repair and concrete lifting and leveling needs. Don't wait until the problem gets even worse – schedule a free estimate with us today! We serve homeowners in Santa Barbara, CA and throughout the surrounding areas.