Expert Foundation Repair Company in Riverside, CA
Riverside, CA foundation repair & concrete leveling experts
Saber Foundation Repair has been providing durable, long-lasting, and trusted commercial and residential foundation repair and concrete leveling in Riverside, CA since 2001.
Whether you need tough foundation pier systems, a long-lasting concrete leveling solution, or crawl space support jacks, we have the repair solutions that will better serve your project!
Supportworks guarantee
Supportworks is an international foundation repair network comprised of more than 300 independently owned and operated dealerships. Saber Foundation Repair is proud to be part of the Supportworks network and serve Riverside as a trusted concrete and foundation repair company. As a Supportworks dealer, we offer only the best residential and commercial foundation repair and concrete repair solutions that are proven effective!
Our services include:
Helical Piles/Helix Piers
Helical/Tieback Anchors
Push Pier/Underpinning Systems
Crawl Space Jacks
Concrete Leveling
PolyLevel®
Sidewalk & Driveway Leveling
DecoShield™ Concrete Sealer
Airport & Train Track Repair
Void Filling & Erosion Control
And more!
Trusted Riverside foundation repair company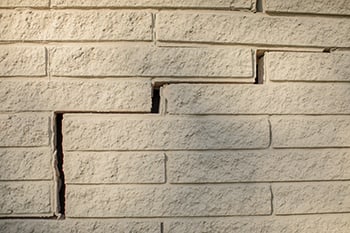 A Stair-step foundation crack is a sign of a foundation wall problem.
Are you concerned about the condition of your residential or commercial foundation? Foundation problems are a common occurrence, but that doesn't mean they aren't a big deal. If you have any of the following issues, your property could need foundation repair.
Common foundation problems
Cracked foundation walls or floors
Bowing or buckling foundation walls
Sticking windows and doors in the living area
Walls leaning inwards at the top
Sinking or unlevel floors and slabs
Foundation settlement
If you've noticed any of these problems, don't hesitate to contact the home foundation repair experts at Saber Foundation Repair. We have the expertise and solutions to repair all types of foundation problems, whether it's a foundation crack, a buckling foundation wall, or another issue.
Restore your property with concrete leveling
Do you have a cracked or uneven sidewalk, warehouse floor, airport, or bridge approach? No one wants to deal with unsightly and potentially hazardous concrete, which is why we provide expert concrete leveling with PolyLevel®.
The PolyLevel® system is a polyurethane foam that is injected underneath the concrete slab to raise and stabilize the surface. This process is non-invasive and is done very quickly, providing an accurate, long-lasting, and environmentally friendly concrete repair solution.
Schedule a free estimate today!
Saber Foundation Repair is thrilled to offer residential and commercial property owners in Riverside and nearby free estimates on our services. From foundation crack repair to concrete lifting, the pros at Saber Foundation Repair have you covered!
Let's get the ball rolling on your house foundation repair or concrete restoration project in Riverside. Call us at 1-877-203-4601 or click below today to get started!