Contact Us For
An Estimate!
Reviews From Riverside
Riverside, CA

Friday, Dec 27th, 2013

"Holly is amazing, very helpful with any questions and..."

Riverside, CA

Tuesday, Mar 25th, 2014

"I have just begun to work with Saber and have found..."

Riverside, CA

Monday, Nov 10th, 2014

"Reinforce with your crew members to place their names on..."
Before and After Pictures from Riverside
New Floor Support Posts in Riverside
Repairing Trip Hazards in Riverside
Using PolyLevel and NexusPro For Concrete Repair In Riverside, CA
Company Awards
Saber was ranked 10th of Top 75 Foundation Dealers in the Supportworks network at the Redefine 2018 conference in Omaha,...
[Read more]
Saber was recognized for being 7th in the Supportworks network for push pier installations....
[Read more]
More Awards
Expert Foundation Repair Company in Riverside, CA
Happy Customers Surrounding Riverside, CA
Testimonials
Reviews
Work Requests
Click the icons to see what our customers had to say.
Riverside, CA foundation repair & concrete leveling experts
Saber Foundation Repair has been providing durable, long-lasting, and trusted commercial and residential foundation repair and concrete leveling in Riverside, CA since 2001.
Whether you need tough foundation pier systems, a long-lasting concrete leveling solution, or crawl space support jacks, we have the repair solutions that will better serve your project!
Supportworks guarantee
Supportworks is an international foundation repair network comprised of more than 300 independently owned and operated dealerships. As a trusted Supportworks dealer, Saber Foundation Repair offers only the best residential and commercial foundation repair and concrete repair solutions that are proven effective!
Our services include:
Helical Piles/Helix Piers
Helical/Tieback Anchors
Push Pier/Underpinning Systems
Crawl Space Jacks
Concrete Leveling
PolyLevel®
Sidewalk & Driveway Leveling
DecoShield™ Concrete Sealer
Airport & Train Track Repair
Void Filling & Erosion Control
And more!
Riverside's foundation repair experts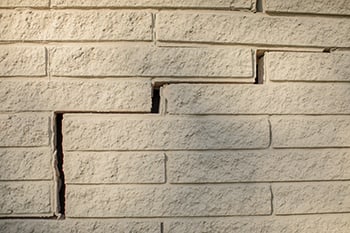 Stair-step cracks are a sign of a foundation problem.
Are you concerned about the condition of your home or building's foundation? Foundation problems are a common occurrence, but that doesn't mean they aren't a big deal. If you have any of the following issues, your property could need foundation repair:
Buckling or bowing walls
Cracking walls or floors
Uneven floors
Sticking windows and doors
Foundation settlement
Restore your property with concrete leveling
Do you have a cracked or uneven sidewalk, warehouse floor, airport, or bridge approach? No one wants to deal with unsightly and potentially hazardous concrete, which is why we provide expert concrete leveling with PolyLevel®. The PolyLevel® system is a polyurethane foam that is injected underneath the concrete slab to raise and stabilize the surface. This process is non-invasive and is done very quickly, providing an accurate, long-lasting, and environmentally friendly concrete repair solution.
If you're interested in any of our residential or commercial foundation repair or concrete leveling services, call us today to get started!
Case Studies From Riverside
Press Releases From Riverside
Saber Foundation Repair has recently joined the largest network of foundation repair contractors in North America....
[Read more]
Photo Galleries From Riverside
This picture shows a newly installed wood floor support post. The Post is secured to a new concrete base, and the floor joist, with metal brackets.
Job Stories From Riverside, CA
Using PolyLevel® and NexusPro® For Driveway Repair In Oceanside, CA
Homeowner Jim B. reached out to use to get his Driveway repaired by using our PolyLevel solution in Oceanside. He's been living in his mid-90s home for ten years. When he first moved into his home, he noticed that he had cracks and settling concrete. Fast forward to today, the concrete is much worse due to the settlement. Jim decided it was finally time to take care of the tripping hazard for his and his family's safety. Our PolyLevel specialist Scott L. injected 676sq ft of Polyurethane and 31 ft of our high-end sealant NexusPro for the joints and cracks. He and his family now have the peace of mind that no one can get hurt by their driveway.
Repairing Walkways in Riverside
Riverside resident Chuck C. contacted Saber regarding Buckling Sidewalks in the Complex that he managed. Sabers Project Design Specialist perfomed a thorough inspection of the Property. Tree and Bush Roots were causing the Trip Hazards to form.
Saber's crew removed the Concrete Slabs that had buckled. Then, the intrusive roots were removed. Forms were built, and the ground was prepared for new Concrete to be poured. New Concrete Slabs were poured and Finished. See attached picture.
Chuck now has Peace of Mind.
Riverside, Ca. Apartment Community Receives a Face-Lift Through Saber's Commercial Concrete Grinding
A Riverside, Ca. apartment community was having issues with tree roots raising concrete slabs on a few of their walkways. In many areas, the concrete had become uneven due to soil settlement over the years. The manager of maintenance at the community wanted to fix the trip hazards as soon as possible with little disruption. Some of the slabs in major traffic areas were misaligned up to 2", creating a danger for families walking to and from their homes.
Though a few of the cracked and broken slabs needed total replacement, Saber was able to come out, walk the property, and discover that they could grind down 37 areas, leveling out the concrete without having to rip out large portions of the slab. Residents were able to go about their day walking to and from their homes without major disruption.
The property maintenance manager was pleased that the project took only 2 days of dustless grinding to finish and that Saber was able to keep each grind area free from multiple types of equipment and waste. It was a hassle-free way to ensure the concrete in the community was level and free from trip hazards.
PolyLEVEL™ Stabilization and Crack Repair in Loma Linda, CA
Homeowners in Loma Linda, California, had noticed a large crack in the slab of their foundation. After doing some research about the methods to fix the damage caused by the soil settlement below the slab, they knew that they wanted to use a company that would inject foam under the slab. The other options were thought to be too time consuming and expensive. The homeowner knew they wanted something that was light weight with a quick finish time and something that would not break the budget. The homeowners enlisted the help of Saber to repair the crack in the slab and to lift and stabilize the foundation of the home. The crew from Saber arrived promptly at the scheduled date and time and the work was completed much to the homeowners satisfaction. The crew injected PolyLEVEL™ beneath the foundation to stabilize the home and to perform a lift, once the lift was complete and the PolyLEVEL™ was cured, the crew then repaired the crack that had formed in the foundation using an epoxy injection. The homeowners were very pleased with the work competed by Saber and are happy to know that their home is now stabilized and the signs of settlement are no longer an issue.
Sagging Floors in Riverside, California
Christian F, of Riverside, California, had noticed that the floors of his property had begun to sag. He researched the issue and found that he would need professionals to come investigate the problem. Saber was contacted, by the home owner, to come do an inspection. The Saber Sales representative, found that the property did have foundation issues and would need repairs. The findings, were that Saber would need to remove and replace posts, as well as removing high posts and pads and replace with new Smart Jacks.
Christian, knew the work must be completed to support his homes foundation, so he set up a schedule with the Saber office and crew was sent out to repair the foundation. During the repairs the crew used Simpson T-straps and Simpson framing clips to strap each of the existing wood 4x4 posts to existing wood grider beams.
The crew also installed hot dip galvanized adjustable steel Smart Jacks, this was completed by digging 24x24" foundation pits, filling the excavation with compacted crushed rock creating an engineered fill. They then install the a pre-cast foundation base, attach and adjust Smart Jacks, for proper elevation and load bearing of the supporting floors.
The work was completed and Christian is now happy knowing that his investment is secure and that the floors in the home are no longer an issue.
Sagging Floors and Bowing Walls
Lisa L. of Green Valley Lake, California, had noticed that the floors in her home were sagging and the walls had begun to bow. The first step she took was locating a foundation company with a great reputation, to fix her issue. After doing her research she set up an appointment, with Saber, for an estimate. The findings were, sagging beams and floor joists caused by weakening of members over time.
Saber scheduled a crew to compete the work for Lisa. The crew installed galvanized adjustable steel Smart Jacks, by digging a 24x24" foundation pit, created an engineered fill, and installed a precast foundation base, and attached and adjusted the Smart Jack. The crew also needed to install new 4x6 wood grider beams for additional reinforcement to existing floor supports. This was accomplished by removing the sub floor to expose the existing beams. The home was lifted to maximum practical recovery, and the sub floor was replaced. The site was then cleaned and the project was complete.
Work Requests From Riverside, CA
Project Location: Riverside, CA

Project Location: Riverside, CA

Project Location: Riverside, CA

Project Location: Riverside, CA

Project Location: Riverside, CA

Project Location: Riverside, CA

Project Location: Riverside, CA

Project Location: Riverside, CA

Project Location: Riverside, CA

Project Location: Riverside, CA

Project Location: Riverside, CA

Project Location: Riverside, CA

Project Location: Riverside, CA

Project Location: Riverside, CA

Project Location: Riverside, CA

Project Location: Riverside, CA

Project Location: Riverside, CA

Project Location: Riverside, CA

Project Location: Riverside, CA

Project Location: Riverside, CA

Serving the following Riverside, CA zip codes
92501, 92502, 92503, 92504, 92505, 92506, 92507, 92508, 92513, 92514, 92516, 92517, 92519, 92521, 92522