Foundation Repair and Concrete Leveling Experts in Riverside, California
Do you have issues with cracked or bowing foundation walls, uneven concrete surfaces, or a moldy crawl space? Saber Foundation Repair is a full service foundation repair contractor serving Riverside and nearby, and we can provide a quality solution to your problem. We offer complete foundation repair, concrete leveling, and crawl space encapsulation services to help protect your home.
Saber Foundation Repair has been serving Riverside since 1987, and our experienced professionals know what it takes to find the right foundation solutions for your home. As part of the international Supportworks network, we provide patented and proven products designed specifically to provide long lasting solutions. Call us today or contact us online to get a free estimate!
Riverside's foundation repair experts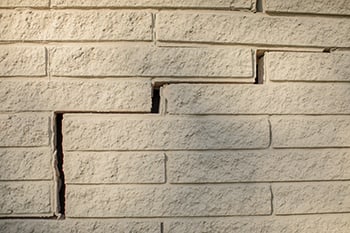 Stair step cracks are a sure sign of a foundation problem that needs repair.
Are you concerned about the condition of your home's foundation? Foundation problems are a common occurrence, but that doesn't mean they aren't a big deal. If you have any of the following issues, your home could need foundation repair:
Bowing or buckling walls
Cracking walls or floors
Uneven floors
Sticking windows and doors
Foundation settlement
Crawl space encapsulation creates a healthier, more efficient home
Many homeowners are not aware of the problems that the crawl space can cause for their home, especially when there is excess moisture or mold growth. The crawl space is one of the biggest sources of energy loss in the home, creating uncomfortable rooms and expensive heating and cooling bills. Additionally, mold growth and pest problems can lead to wood rot and structural damage.
Saber Foundation Repair specializes in repair and encapsulating crawl spaces. Our system includes vapor barriers, sump pumps, dehumidifiers, drainage systems, crawl space insulation, and crawl space support jacks, all of which combine to seal your crawl space off from the outside and eliminate problems like energy loss and mold growth. The result is a structurally sound crawl space that creates a more efficient and comfortable home.
Restore your property with concrete leveling
Do you have a cracked or uneven sidewalk, driveway or patio? No one wants to deal with unsightly and potentially hazardous concrete, which is why we provide expert concrete leveling with PolyLevel. The PolyLevel system is a polyurethane foam that is injected underneath the concrete slab to raise and stabilize the surface. This process is non-invasive and is done very quickly, providing an accurate, long lasting, and environmentally friendly concrete repair solution.
If you're interested in any of our foundation repair, crawl space encapsulation, or concrete leveling services, call us today to get started. We offer free estimates in Riverside and throughout the surrounding areas.