Crack Repair Services in Greater Los Angeles
We can repair foundation floor & wall cracks, leaking cracks, and more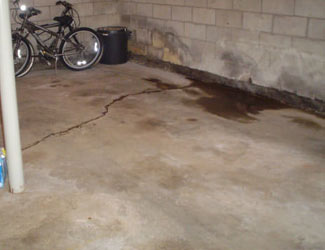 Floods from the floor. Floor cracks expose basements to water underneath the slab.
Wall or floor cracks in your basement or crawl space are a serious concern that can pose a number of problems for any home. Cracks can indicate structural issues that are in need of repair, or they can lead to problems with leaks and pests.
At Saber Foundation Repair, we specialize in all types of crack repair services, ensuring your foundation is fully protected. If you have a crack in your foundation walls or floor, call us today at 1-877-203-4601 or click below to learn more about how we can help. We offer free estimates on all our work in Los Angeles, San Diego, Irvine and the nearby areas.
Our crack repair solutions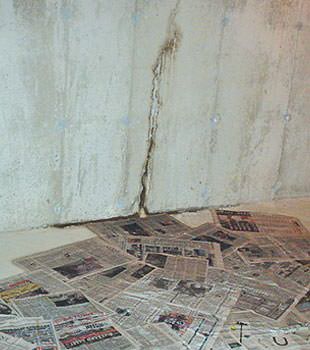 Protect your home. Repairing wall cracks is essential for preventing leaks and ensuring your foundation is stable.
Floor cracks: Water can rise directly through the porous concrete of your floor slab, a problem that's exacerbated when there's a crack. When you have water coming through the floor, the first step is installing a perimeter drain system. We can also install a direct drainage channel, which will help direct any water that comes through the crack into the drain and your sump pump. Finally, we will backfill the crack with stone and cover it with fresh concrete to prevent future leaks.
Wall cracks: The soil around your foundation is filled with water, and even the smallest crack will allow this groundwater to seep into your basement. Much like with floor cracks, the first step to repairing a leaky wall crack is installing one of our drainage systems. We then use an innovative polyurethane sealant called FlexiSpan® to seal the crack. This flexible sealant will never dry or crack and can flex to the natural movement of your foundation wall, ensuring a completely waterproofing seal.
Leaky windows: Window frames break down over time, creating separation and allowing water to seep past seals. Once again, the first step for repairing window leaks is a drainage system that funnels the water to your sump pump. We will then create a small hole in the wall under the window with a plastic fitting that directs any water into the drainage system. This is then sealed with a polymer injection for a clean, waterproof finish.
Repair your foundation floor and wall cracks today!
Water can enter your home at any point where there is an opening in the foundation. This includes not only cracks in the walls and floors, but around pipes as well. Our floor crack and leaky window solutions provide lasting results that are compatible with your perimeter drainage system and will not crumble, flake off your walls, or fail due to the natural expansion and shrinking of the concrete.
Call the basement waterproofing experts at Saber Foundation Repair today to get started on your crack repair with a free estimate. We offer all our services in Los Angeles, San Diego, Irvine, Santa Ana, Riverside, Irvine, San Diego, Chula Vista, Huntington Beach, Oxnard and throughout the surrounding areas.